Global Drama is my kinda version of Total Drama World Tour.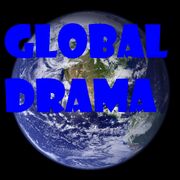 17 contestants must travel across the planet to win one million dollars. This season has crafty newcomers joining the game. The season's theme is traveling. One player wins in the end while the others travel their way to elimination.
Characters
Edit
Staff:
Chris McLean
Chef Hatchet
Contestants:
Alejandro
Blaineley
Bridgette
Cody
Courtney
DJ
Duncan
Ezekiel
Gwen
Harold
Heather
Izzy
Leshawna
Lindsay
Noah
Owen
Sierra
Tyler
Ad blocker interference detected!
Wikia is a free-to-use site that makes money from advertising. We have a modified experience for viewers using ad blockers

Wikia is not accessible if you've made further modifications. Remove the custom ad blocker rule(s) and the page will load as expected.